The Top AR Porn Sites And Apps In 2023
Momentum continues to build for AR porn, with the small number of present apps, videos, and games availble gradually being both added to and improved. Over the last 12 months or so Naughty America Strip Club has returned and been rebranded as Real Girls Now (volumetric scanned AR pornstars) and VirtualSexWorld (cgi AR characters). It also has a rival in the form of fellow volumetric AR site 3DUncut. But perhaps most excitingly of all, VR porn enthusiasts have discovered that was possible to experience hardcore AR porn on their VR headsets through the passthrough system. With the revealing of the Apple Reality Pro AR headset, and the launch of the Meta Quest 3 later this year, which will have high resolution color mixed reality, we can be sure that the AR porn industry will really start to explode in the next 12 months.
Best AR/Mixed Reality App : Real Girls Now – $5.95 Monthly
The first porn site to offer augmented reality content, after a temporary absence, it has relaunched and is better than ever. Live pornstars captured in photo-realistic 3D by volumetric scanning technology. The resulting 'avatars' can be viewed in your home environment via your smartphone or in 'passthrough mode' in the Quest or Pico VR headsets, or inside a virtual environment with a VR headset. The famous pornstars featured all strip, move, dance, or engage in simulated sex acts.
A three day trial costs only $1.95, whilst a 12 month subscription costs a very reasonable $5.95 per month.
The Best AR (Passthru) Porn Site In 2023 : SexLikeReal – VR, Mixed Reality
If you own a VR headset, particularly the Oculus Quest 2, the Quest Pro, or the Pico 4, then you can enjoy AR porn right now. The experience of having a beautiful babe giving you a blowjob or riding your dick, while you can still see your own real environment (including your own dick), is possible thanks to the passthrough function on the Quest 2, and just a little tinkering with the guardian boundary. It's even easier to experience on the Meta Quest Pro, and the 'passthrough' on that headset is in high-resolution and color. SexLikeReal has already filmed several VR porn videos in front of a green screen, to be experienced in mixed reality passthrough. Another studio – AmoreVR – is also shooting passthrough videos in the same way, and membership of SexLikeReal gives you access to their videos too!
Some existing VR porn sites that film with dakrk backgrounds are also suited to the passthrough experience,The videos of top VR site DarkRoomVR are perfect in this regard.. DarkRoomVR release a new full length-video weekly. For a short guide on how to experience AR passthrough porn on your Quest 2 headset, see here.

The Best New AR Smartphone App In 2023 : 3DUncut – Android
The AR girls of Naughty America now have a serious rival in the volumetric adult hologram space. 3DUncut is a new AR erotic site launched in the spring of 2023, that features models (or 'creators') in sexy holographic animations that you can position anywhere in your environment, and walk around. The quality is excellent and on a par with the volumetric models of Naughty America, and many of them are free too, with the others costing only $5 each to download and keep. The site already boasts quite a wide selection of girls to choose from, and with regular updates. Unfortunately, the AR holograms can only be viewed on a smartphone, with no immediate plans to support mixed reality on Quest or other headsets.
Meta Quest Pro Mixed Reality Sex Game : VR Hot – Quest Pro, Quest 2

By far and away the most advanced and interactive of any mixed reality porn game for the Quest. Uses hand tracking for you to be able to grope, slap, and 'feel' the ripe bodies of a selection of realistically rendered CGI 3D girls. The girls are not true AR holograms, but look very convincing. You can give them voice commands, and the developers are working on intergrating ChatGPT style AI conversational abilities, which is going to be pretty amazing, especially with the forthcoming release of the Meta Quest 3 and color passthrough.
Meta Quest Pro AR Sex Game : Hot Sauce – Quest Pro, Quest 2
The first AR sex game for the Meta Quest Pro was demoed recently, and it looks pretty darned good to see hot girls stripping, sucking, and fucking you in your own home environment. Yes, the girls are a little clunky, but it certainly has potential and costs only $2.99 for you to download and support the development of AR porn. There are currently 9 different strippers to choose from (7 female and 2 male) and 26 different animations.
Abandoned Or Shelved AR Porn Apps And Projects
CGI Virtual AR Girls : AR3X – Android, iPhone
One of the first AR porn apps to only use fully CGI girls. Launched a couple of years ago with over 11 of these computer generated and animated virtual girls for you to place around your environment. A mobile browser app so you don't even have to download an app. The site had a lot of promise, but came with drawbacks, including inaccurate 'anchoring' of the girls, as well as their realism being a bit hit and miss. There is (or was) a free short demo of one girl to try on your smartphone at the site, but for full access a subscription at $1.99 a month is needed. The web based app works on both Android ARCore smartphones and iPhones. However, it seems that the site has not updated for a long time, and I am finding it hard to even access the members area. Reaching out to the team behind AR3X has proven fruitless.
Unfortunately, the AR projects below have all been shelved. Hopefully, when AR capable headsets start to flood the market later this year, the studios behind them will have a rethink, and we may see them return in an even better form.
Abandoned : Badoink AR – $1 Trial, Free Demo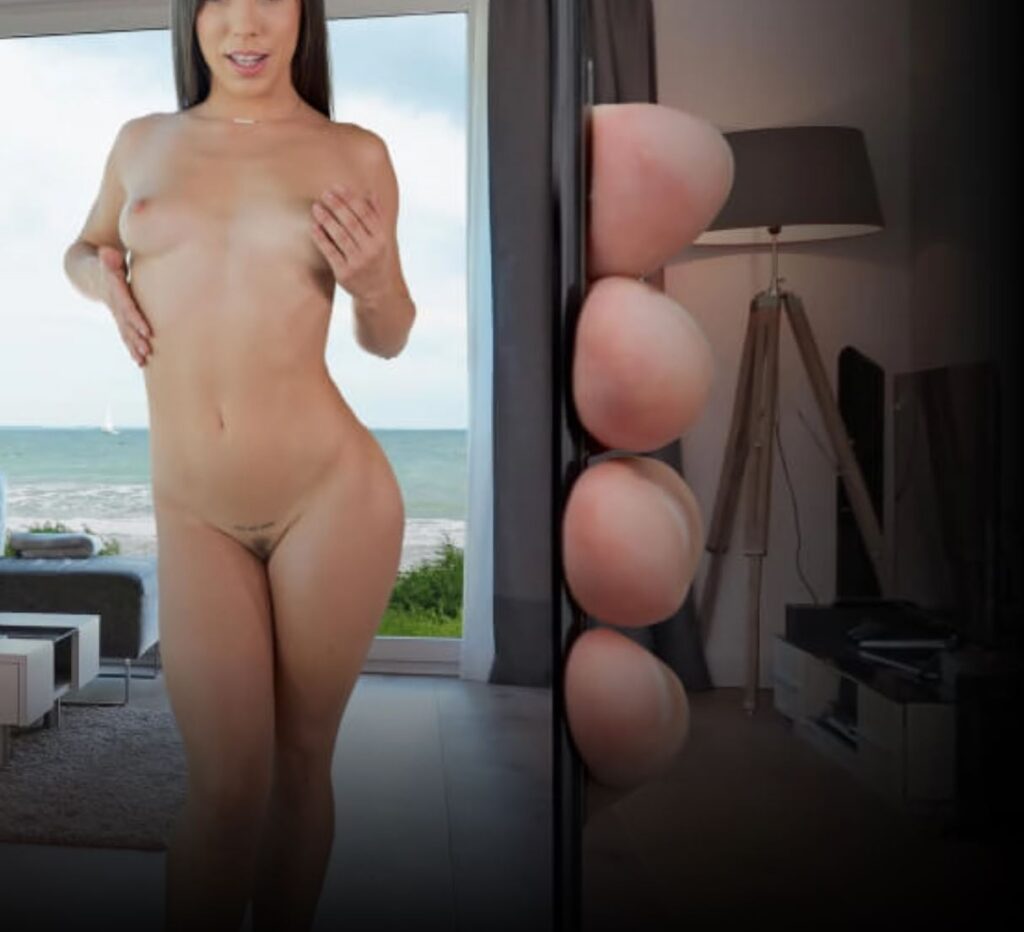 Badoink are probably going to have the best AR porn content before the end of the year, unfortunately their AR porn is still stuck in demo mode, as it has been since the start of the year. You can try a free demo now, and no app is needed to view one of their first girls in your home with your smartphone. The demo currently only features one girl, but it does show a lot of promise, with the volumetric 3D captured pornstar looking very real and with fluid movement and accurate placement on your chosen surface. You can join BadoinkVR now for just a $1 trial or $24.95 monthly.
Unavailable : AR Conk – $4.95 To Download
The very first AR porn app is now over five years old, and although it hasn't been updated in all of that time, and still feels little more than a demo, it's worth purchasing at only $4.95 if only to own a little piece of pornographic history. The girl is extremely beautiful, and her motions for the most part very fluid. Unfortunately, this seems to have come at the expense a little of photo-realism. She looks quite a bit more avatar like than the other AR porn girls on this list. There's very much a sense of uncanny valley here, and sometimes her head is totally disjointed from her body. Still, despite that, she is very beautiful, and there are a number of positions and simulated sex acts you can enjoy with her.